Cosmetology School Programs

Congratulations! If you have found yourself here, you are considering a career in cosmetology. This is a challenging career requiring a license to practice in every state. In fact, this is the fourth most regulated occupation in the United States. With the right education, you can discover a challenging and highly fulfilling career with endless possibilities. Here we offer everything you need to know about cosmetology school and why a career as a cosmetologist could be the ideal choice for you.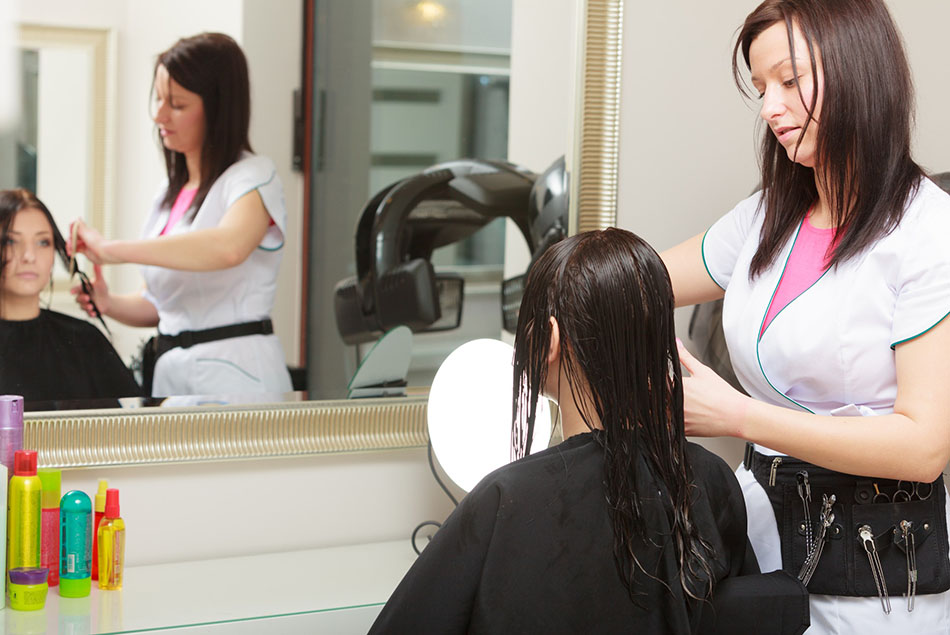 What is Cosmetology School?
More commonly known as beauty school, cosmetology school provides the skills you need to provide hair, nail, and skincare to your clients. Beauty college encompasses a wide spectrum of beauty skills allowing you to enter a career in your chosen specialty, or as a general beauty expert working in many different environments from hotels to spas and cruise ships to salons. However, in order to receive your license, you must choose an accredited cosmetology school.
What Do Cosmetologists Do?

As mentioned, cosmetologists are beauty experts providing care for:
Cosmetology
Cosmetologists encompass the entire world of beauty with a full understanding of hair, skin, and nails. In this exciting career, the sky is the limit with skills to provide services not only in beauty but also in several therapeutic services that aid in overall wellness for the mind and body.
Esthetics
The study of skincare is a remarkably high demand skill addressing one of the greatest challenges of beauty: aging. However, it also provides skincare for all ages addressing a long list of skin woes from acne to sun damage and aging to skin detox. Many courses also include hair removal techniques as well as sunless tanning and more advanced anti-aging procedures.
Barbering and Hair Design

Hairstyling and cutting has expanded to include other aspects of beauty, including growing demand for men's beauty. While barbering involves cutting and styling hair and trimming and shaving facial hair for men, hair design includes further skills such as color treatments, shaping and specialty occasional hair designs for men, women and children. It is considered one of the cornerstones of cosmetology school.
Nail Technology
Nail technicians are trained in the art of manicures and pedicures, as well as treatments for nail and cuticle health. Applications and nail design have advanced and often courses will include new techniques such as nail jewelry and nail art.
Keep in mind there are new and exciting elements of cosmetology being offered every year. Some of the latest programs might include:
Z

Makeup Artistry

Z

Hair Removal

Z

Permanent Makeup

Z

Advanced Skin Care

Z

And more
The cosmetology courses available are constantly changing to meet the needs and demands of today's beauty clients.
What is the Job Outlook for Cosmetologists?

According to the Bureau of Labor Statistics (BLS) the beauty field is looking at growth of 8 percent between 2018–2028. This represents faster growth than the average occupation of just 4 percent, making it an excellent option. Job opportunities in cosmetology include: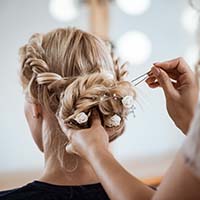 Hair Stylist
In general, hairstylists provide shampooing, cutting, styling, coloring, perms, and deep conditioning treatments. You can not only work in salons but also find careers in film, television, and fashion. Certification is also available for specialties including:
Hair braiding and weaves
Extensions
Scalp care
Barber (men's grooming)
Colorist
Updos and special occasions
And more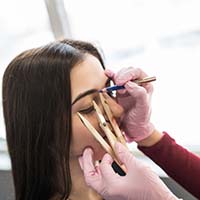 Makeup Artist
This is an exciting career that can introduce you to career opportunities in the film industry, theatre, and fashion. However, it can also be a fun job helping people create their own looks, makeup for special occasions, how to use makeup properly, the art of using the right colors and techniques to camouflage imperfections and bring out natural beauty, etc.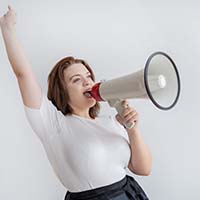 Advertising
Helping produce the advertising for beauty products can be an exciting career where your creativity, sense of style and understanding of your customers comes into play. This includes exciting photo shoots, television commercials, social media campaigns, special events, and more.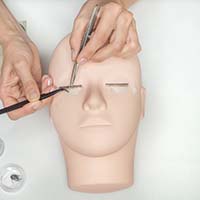 Teaching
As you build your own career, you might choose to share your experiences as a teacher at a cosmetology college.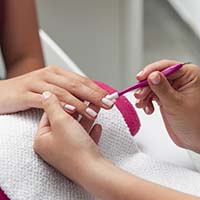 Nail Technician
Foot and hand care include the basics of manicures and pedicures. However, there are additional skills you can put to good use including massages, hot-oil therapy treatments, nail artistry, airbrushing, customized painting, artificial nail application and more.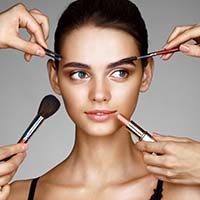 Permanent Makeup
The application of pigments to the skin provides a permanent makeup solution including eyeliner, lipstick, and enhanced eyebrow shapes. This is growing in popularity as a way to help cover scars and other skin imperfections.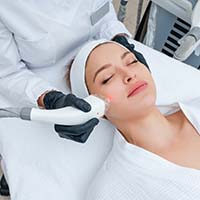 Laser Treatment Technician
Laser treatments are used in several different applications to treat:
Acne scars
Birthmarks
Fine lines and wrinkles
Age spots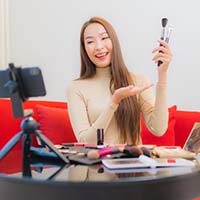 Sales and Marketing
Selling and marketing beauty products can be an excellent career with high pay, travel, and opportunity for advancement. You can work for a wide variety of international beauty lines as a marketing representative providing products to salons across the country or in a specific town or area.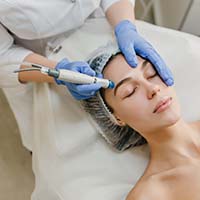 Esthetician
As a skincare specialist there is an endless list of services you can provide including:
Hair removal
Brow care and shaping
Artificial lashes
Body care such as scrubs
Skincare therapies
Certified and licensed services such as microdermabrasion, and chemical peels
Advanced technology treatments such as LED light treatment, laser skin treatment, ultrasonic skin therapy, etc.
Anti-aging
Tanning
Acne treatments
And more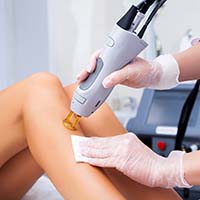 Electrolysis Technician
This method of permanent hair removal requires supplemental certification to use the equipment to effectively destroy hair follicles', so they no longer produce hair. It is the only FDA-approved permanent hair removal treatment.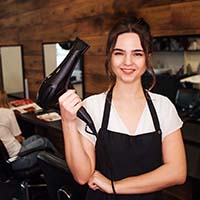 Salon Management
You can use your cosmetology skills to advance your career and become a salon manager.
This would include:
Day-to-day operations of a salon
Hiring and training staff
Supervision of staff
Customer service and satisfaction
Salon profitability
Scheduling
Continuing education
And more
This is an excellent stepping stone if you are interested in owning your own salon someday.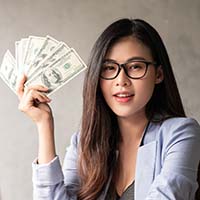 Cosmetology Salary
As with any industry, your salary in cosmetology can vary greatly based on many different factors. However, on average the income range is between $22,501 and $33,201 with a median income average of $27,001. As your experience increases and your skills attract more clientele you can see increases to your income to meet that level of skill and knowledge. Another major factor is the status and demand of your employer.
Higher-end employers tend to offer better pay as they expect a higher quality of work and set higher standards to impress their clientele. As well, the industry you choose such as film or advertising can also increase your salary expectations. Entertainment stylists for example almost triple their incomes averaging $60,000 to $70,000 a year. Making a name for yourself is an excellent way to increase your earning.
In the beauty industry, you will find you can move from career to career as you gain experience and knowledge. There is an endless variety of opportunities allowing you to set your sights on various fields from entertainment to advertising and education to hospitality.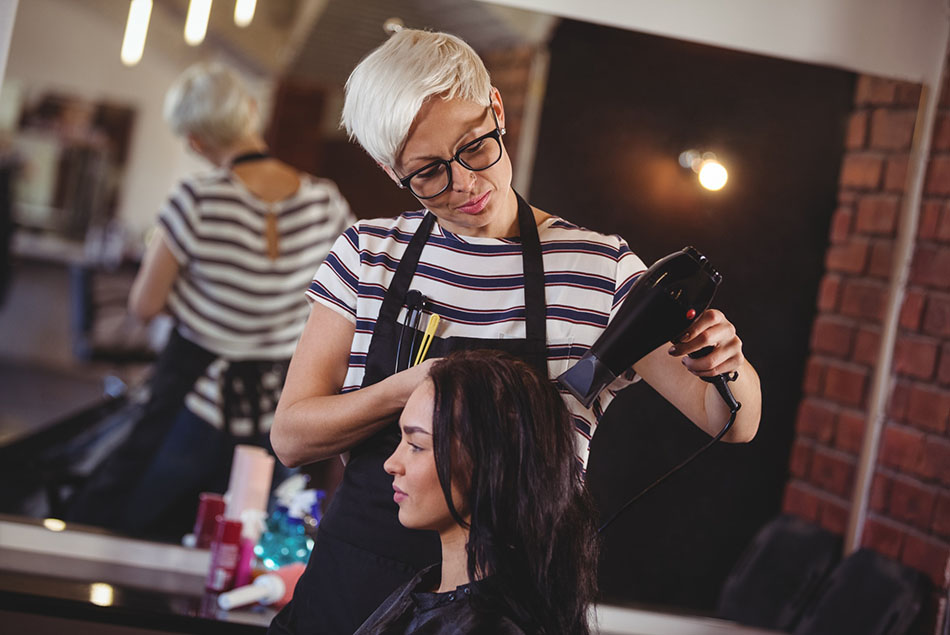 What is Cosmetologist School Really Like?
Cosmetology school tends to be fast-paced and exciting, with a lot of opportunities to have fun. You'll meet like-minded students with an interest in helping people look and feel their best. A proper cosmetology school focuses on a broader range of training, which means once your course is completed, you'll have more opportunity to work in the area that offers the most opportunity for your career goals. Even better, you'll have plenty of hands-on training, allowing you to experiment with the techniques taught to develop your skills. In general, you will need to understand three areas:
Z

Sanitation procedures and how they apply to the tools and workstation for each type of service you provide.

Z

Human physiology and anatomy as it relates to human skin, hair, and nails, and how proper care affects associated systems of the body.

Z

Chemistry of the products you use during your career and how they are safely handled and applied to the body.
Some of the most common areas of study would include:
General Cosmetology
This covers important elements of working as a cosmetologist such as client care ethics, hygiene and sanitation, the tools and equipment of the industry, personal grooming, and in many cases the basics of human anatomy and physiology. This helps set the groundwork for your other courses, as well as providing a better understanding of what is available and expected in your cosmetology career.
Hair Care
This typically covers all aspects of hair care including the scalp, effective shampooing and conditioning, hair care tips, hairstyling including trimming, thinning, curling, and shaping, specialized cuts, etc. Styling methods such as braiding, up-dos, wedding and prom styles, competition styles etc., as well as special applications for wigs, hair extensions and more are also often covered.
Hair Color

Hair coloring safety, chemical use, techniques related to creating highlights or lowlights, proper color application, choosing the right color for a person's skin tones, and more.
Nail Care

An overview of common nail disorders and diseases, proper hygiene for infection control, manicures and pedicures, acrylic tip and form application, effective nail repair methods, polish techniques, etc. as well as teaching clients proper care techniques to prolong the life of nail treatments and maintenance.
Skin Care
Often a history associated with skincare treatments, in hand with an overview of ski diseases and types is the starting point for skin care classes. You then advance to procedures such as facials, dermabrasion, skin cleansing techniques suited to each skin type, hair removal, skin consultation methods, skin product use, and more.
Makeup Application
This is often an extra course offered for those interested in makeup application with a look at color, makeup tools, makeup application, airbrushing, camouflaging tips, and more.
Salon Management
Also often available as an extra course, this is an excellent choice for students who will eventually wish to open their own salons, or manage a salon. This adds business skills to your beauty techniques, including ethics, marketing, labor laws/workers' compensation rights, business success tips and more.
Many students appreciate the shorter duration for cosmetology school when compared to the courses taken at university and community colleges. Most courses are completed in less time than the two to four years required for traditional career training and courses at other post-secondary schools.
How Long Is Cosmetology School?
As mentioned, full-time students complete their cosmetology program in less than the standard two years. You also have the choice to study part-time which means your completion time would vary depending on how you schedule your part-time studies. There is also a maximum amount of time allotted to complete your courses based on your state laws. As a result, this also affects the hours of class time required for certifications and licenses.
However, on average you are looking at between 1,400 to 1,600 hours. It depends on the areas you wish to study as well. You can expect the following average hours of study for the three most common cosmetology courses:
}

Esthetician - 650 hours

}

Electrologist – 500 hours

}

Nail technician - 300 hours
You can refer to your own state's cosmetology board to get the exact requirements.
What Are the Average Cosmetology School Requirements?
As with any licensing and certification requirements, your schooling will be based on state requirements. However, the average cosmetology school requirements would be:
Z

A high school diploma or GED

Z

A cosmetology training certificate or associate degree in cosmetology

Z

Supervised hands-on experience to write the state cosmetology licensing exam
Your state's Cosmetology Licensing Board will have a list of approved cosmetology schools and courses to get your license. You can choose between either completing an associate degree in applied science from a technical college for two years or shorter certificate programs. In some states such as California, there are also approved cosmetology apprenticeship training programs where you can be paid minimum wage while working to get your license. Our Enrollment page provides all the answers to your Enrollment questions.
Costs – How Much Does Cosmetology School Cost?

Accredited cosmetology schools usually charge tuition ranging from $5,000 to $15,000. If you are looking at attending a top beauty college that can jump to as much as $10,000 to $20,000. Overall, your tuition might be covered by government student loans available through Free Application for Federal Student Aid (FAFSA®). However, it will have to be with an accredited beauty school registered with the U.S. Department of Education.
A Cosmetology Pell Grant covers your entire tuition, and loans go beyond the cost of tuition to help you pay for other associated costs. Just make sure the school you choose is in fact accredited. More information on costs can be found here.
Are Cosmetology Schools Accredited?
Your state's Cosmetology Licensing Board will have a list of approved cosmetology schools and courses to get your license. You can choose between either completing an associate degree in applied science from a technical college for two years or shorter certificate programs. In some states such as California, there are also approved cosmetology apprenticeship training programs where you can be paid minimum wage while working to get your license. Our Enrollment page provides all the answers to your Enrollment questions.